WHO IS MADELEINE, AND HOW CAN I HELP YOU ?
A PASSIONATE HOLISTIC HEALTH COACH AND AYURVEDIC PRACTITIONER WITH A MISSION TO EDUCATE AND EMPOWER YOU TO TAKE CHARGE OF YOUR WELL BEING SO YOU CAN SPARKLE!
TAKE MY DOSHA TEST TO GET STARTED

I want to share what I have learned and studied over those years, and make it simple to fit your personal life to help you become the best possible version of yourself!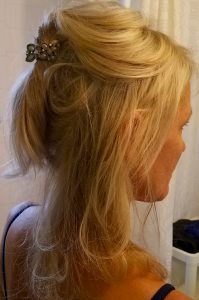 WHO IS MADELEINE?
• A curious, healthy, happy, international girl from Sweden, who has lived and worked in many different parts of the world on 4 continents, with basics in several languages, while fluent in English, Swedish, German and French.
• Holistic Health Coach from IIN, Institute for Integrative Nutrition,
Certified by AADP (American Association of Drugless Practitioners)
• Ayurvedic Practitioner from San Diego College of Ayurveda,
Certified by NAMA (National Ahurvedic Medical Association
• Reiki Master
• Student of Body Talk (hopefully certified in 1 1/2 years), Aromatherapy, Energy Healing (Donna Eden), Yoga, Meditation, Mindfulness, Soundhealing and Crystals.
• Continuous student in the school of life taking new classes to stay updated with ever increasing passion!
• My background is in International Business/Marketing from the University of Uppsala (MBA), and I have worked in beauty, house, interior design, tourism and teaching industries for many years.
For ex:
– Sales Director Estée Lauder Travel Retail Sweden/Finland
– Marketing Assistant at Lancome
– Tour director for many years bringing Scandinavians to different locations, mainly Western Europe and India/ Nepal
more about my background…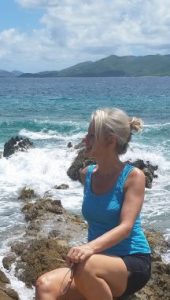 WHY DID I SWITCH CAREER AND BECOME A PASSIONATE HEALTH COACH?
• I became more and more sad to see more and more people in the world getting more and more sick, so I felt a strong urge that I need to do something about it.
• I am especially passionate about bringing clarity and inspiration among all misinformation in this industry
• I have always been very interested in health and nutrition, and after several of my close friends, family members, and I got serious health issues, despite the fact that I thought I lived a fairly health life. I decided to change career and start studying holistic health.
• My background from having lived on 4 different continents, truly made me question the way we live our lives.
• I got a rough wakeup call which completely forced me to change my life, and start studying nutrition and life style choices more seriously.
• Studying this really opened my eyes to how our most common diseases are caused by our mindset and life style choices – deficiency of vegetables, fruits, whole food, exercise, time, joy, peace, and love, and instead too much of nutrient-deficient junk, stress or pollutants. We need too get back to the roots and eat the way our bodies are supposed to! Listening to your particular body by INDIVIDUALIZING, not one diet fit all!
• A big part or our health issues start in our minds. Ayurveda teaches that nothing has more power to heal and transform the body than our minds. Just living more mindfully and doing a simple meditation routine daily can do wonders to refresh our minds and restore balance in our bodies. The thoughts we think have great power over our wellbeing, joy, and satisfaction. Applying these ideas can really be life changing, and it really has been for me.
• But sometimes we get sick even though we live a fairly healthy life style, such as in my case. I caught a virus and had too many vaccinations due to my living and traveling in the 3rd world that none of the the tons of doctors I went to could diagnose, so I was left to find out for myself, which took me a while.
• As I healed myself the natural way, I became more and more convinced that this is what I wanted to do; to change career and share my knowledge to EMPOWER people take charge of their lives to become healthier, more educated and motivated to live a longer, happier life!
• I want to inspire what food, thoughts and life style changes can do to help you!
"Be the Change You Want to See in the World" (Gandhi)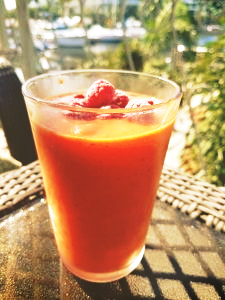 WHAT HAS BEEN MY TOOL BOX?
#1 Listening to what your body is telling you! What are the clues? What are you lacking, or don't do well with?
MIND, BODY AND SOUL
"You are what you think, but also what you continously do, eat, and assimilate."
• Amazing results can be achieved by simply using a holistic approach and setting up realistic goals that focus on a more balanced lifestyle, and nutrient rich food with lofs of LIFE FORCE (prana, chi).
• It's not just about the diet! It's about the whole balance of your body, mind, nutrition and lifestyle, and living in harmony with the seasons, the elements, the earth, and your particular bio-individual type, DOSHA, (what your body specifically needs to stay healthy and in balance).
• What you TAKE OUT of your life and body (detox) is of utmost importance: stress, toxinss in your food, water, environment, personal care and makeup products. Therefore I always encourage with a DETOX on all levels, but not one of those weird detoxes, just pure clean food focusing on taking out the bad stuff, coupled with detoxing your mind, and environment.
• What is balancing for one person, may throw another person out of balance completely. There is no one diet, as we are all different with different genetic makeups, and different needs.
• That's why seeing the individual from the eyes of Ayurveda is always my starting point. We start with a dosha test to learn about your particular body type, your health, and how you may have gone out of balance.